Farm story
Kirigu Factory
The Kirigu Factory was established in the 1950s in Nyeri County. As one of the oldest factories in the area, it benefits from the exceptional terroir of the region. Coffee trees grow on volcanic red soils in high plateaus at an altitude of almost 1600 MASL, resulting in a fantastic synergy between the quality of the varieties and the farmers' work on their farms. The farmers in this area typically own small farms, averaging 250 trees each.
Managed by Esther Waitheka, the factory is part of the Gakuyu Farmers Cooperative Society. Despite having few members, the factory prioritises quality and aims to obtain certifications. An agronomist was employed to train their farmers, further improving coffee quality.
The factory receives coffee cherries from over 385 producers who farm on the land surrounding the factory in Karatina. Harvesting is done by hand selection to ensure that only perfectly ripe cherries are delivered to the factory on the same day. The cherry is meticulously sorted to ensure that only ripe and undamaged cherries are received. The cherry is then pulped using a disc pulper and density sorted. Skilled staff oversee the fermentation process overnight, halting it at the right moment. After fermentation, the cherry is washed in clean water, and the wet parchment is transferred to raised.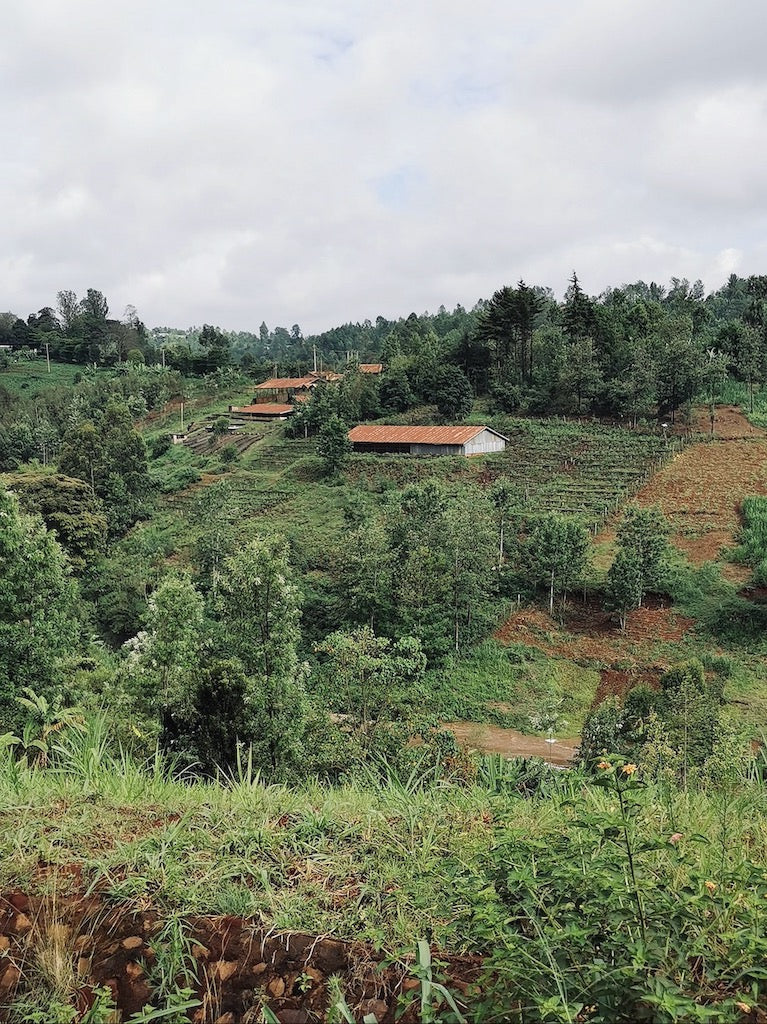 Despite having few members, the factory prioritises quality and aims to obtain certifications.
Coffee variety
Kenyan coffee variety
Kenyan coffee is well-known for its five dominant varieties: SL28, SL34, K7, Ruiru 11, and Batian. The history of coffee in Kenya dates back to the late 1800s when French missionaries brought bourbon coffee seeds to Kenya from Bourbon Island, which is now known as La Réunion Island. These missionaries established a mission in Bura, Taita Taveta County, near Mombasa, and the seeds were then spread across Kenya by the first Kenyan coffee farmers. The original Kenyan coffee varieties are often referred to as "French Mission". Until recently, researchers and agronomists believe that the Bourbon variety is the source of all Kenyan varieties. However, recent studies show that SL34 is closely related to the Typica variety.
In 1922, the colonial British government established the Scott Agricultural Laboratories, which provided Kenyan farmers with training and technical advice on coffee farming. The lab's most notable work was the development of the SL28 and SL34 cultivars. The K7 cultivar was also developed by the colonial government but was selected at Legetet Estate in Muhoroni from the French Mission Coffee.
In the late 1960s, Kenya was hit by severe outbreaks of Coffee Berry Disease and Leaf Rust. The Coffee Research Foundation (CRF) in Ruiru took over from Scotts Labs and responded swiftly by developing resistant varieties. The CRF introduced the Ruiru 11 and Batian varieties to Kenyan coffee growers. These varieties are considered national pride because they were developed after the colonial government in Kenya. In 2014, the CRF was renamed the Coffee Research Institute (CRI).